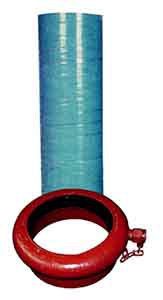 Pneumatic tyre union is widely used in the pipeline with low pressure,large drift diameter and misplacement, and frequent mounting and dismantling, particularly in the connection between the mud tanks of the solid control system in the petroleum sector.
Product construction: steel shell and pneumatic tyre
Operating environment: -45℃-50℃
Max. sealing pressure (fluid pressure in the pipeline):0.4MPa
Return time of pneumatic tyre when deflated: 1-3 sec.
The connecting pipe may be in glass-reinforced plastic pipe or hose with connectors at the ends. The glass-reinforced plastic pipe is corrosion-resistant and light for easy handling. The rubber pipe is easy for bending and suitable for field mispiacement installation of pipeline.
Product specification
Sizes(in/mm)

Applicable pipe diameter(mm)

Dimension of crater(mm)

4"(φ100)
6"(φ150)

φ116
φ168

φ165
φ219

8"(φ200)

Φ219

φ273

10"(φ250)

Φ273

Φ325

12"(φ300)

Φ325

Φ377

14"(φ350)

Φ380

Φ428